Community Garage Sale Day
May 4, 2022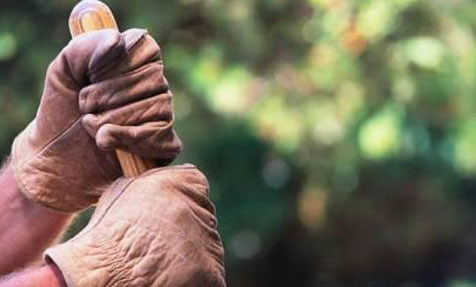 Community Litter Clean-Up
July 5, 2022
When driving into Strawberry Farms, neighbors are pleased to see a small flower garden in the traffic islands on either side of the boulevard. The garden has many varieties of plants, and some small wooden signs painted with pictures of bees and butterflies. This is a welcome change, since the traffic islands have been bare patches of dirt and weeds for several years.
The woman behind this colorful change is a 48-year-old entomologist named Jerri Dombrowski who lives in the nearby apartments. Jerri already had many plants growing in her apartment, but she often walked past the bare traffic islands while walking her two dogs. Eventually she asked about them, and was thrilled to discover that the area was available to anyone who wanted to plant there.
"When I saw that opportunity, I jumped at it," she said. As a member of the Greater Columbus Growing Coalition, Jerri is very experienced with gardening, so she got to work. The hardest part of the process, according to her, was clearing out the old weeds. That part took the most time and effort, but Jerri was committed. Once that was done, she filled the space with soil and got planting. 
Jerri planted many of her personal favorite plants, but as an entomologist, she also knew the value that certain plants have to insects. Among the other plants are milkweed, which is vital for the life cycle of monarch butterflies, and flowers that provide nectar for bees. These plants need pollinators, but Jerri wasn't worried about how they'd do in Strawberry Farms. She described the neighborhood as having a good gardening community, and said that there were lots of bees here as a result.
The garden was rounded out with a few hand-painted signs made from scrap wood, and with that, Jerri was done. She watered the flowers a few times during the summer, but aside from that they thrived without help. Most of the plants will grow back every year, meaning that we can enjoy this garden for years to come. Jerri's positivity is enough to inspire anyone to improve their surroundings. "I go at it with abundance," she said.